Companies
warning: Creating default object from empty value in /home2/muskelon/public_html/modules/taxonomy/taxonomy.pages.inc on line 33.
Companies working in the alt.space field
Rocketeer — Sat, 22/10/2011 - 12:00pm
The British Interplanetary Society is sponsoring a number of ChipSat microsatellites or 'Sprites', and is studying a microsat solar sail mission:
As you well know, the British Interplanetary Society was founded in 1933 and is the oldest space organisation still in its original form. Throughout its history it has continued to inspire and advocate activities relating to the exploration of space. In particular, it has undertaken theoretical design projects and facilitated meeting opportunities between like-minded people, keen to push their ideas forward. Despite these very valuable contributions it has never put any hardware into Earth orbit itself. That is about to change. We are pleased to announce that The British Interplanetary Society has joined the KickSat.org project and intend to sponsor several ChipSats to place into orbit and form the first fleet of spacecraft for this mission. A design team is being assembled to work on some innovative engineering concepts. We are very excited about this project and further announcements with more details will be made by the BIS at a later date.
KickSat is the initiative of Zac Manchester, a graduate student at Cornell University in the United States. The BIS are very grateful for the opportunity to participate in Zac's excellent project and we are pleased to support him in pioneering this technology.
Rocketeer — Fri, 19/12/2008 - 12:44pm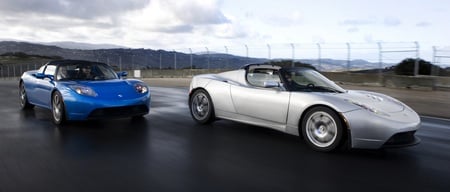 The test of the Tesla Roadster electric sports car on BBC's Top Gear has caused sparks to fly on tech news sites. Jeremy Clarkson reported that the Roadster ran out of charge after a scant 55 miles of hammering around the test track at Dunsfold Park airfield in Surrey. He also charged that the silver Roadster was unreliable, suffering "engine" overheating and "brake failure" which required it to be pushed back to the garage -- charges denied by Tesla's Rachel Konrad in a blog post.
On the other hand, John Carmack seems to be very happy with his new purchase. I love this part:-
"I do also confess to enjoying the irony of my driving an electric car. I am fairly hostile to most of the environmental movement, finding it generally a modern tribal religion that justifies condemnation and control of others in the name of protecting the environment. I care nothing at all for the environment in isolation, only for how it positively impacts human life -- civilization is all about beating the environment into forms that suit us better. An "electric car" used to be a conspicuous sign of righteous sacrifice, but you won't get any self-flagellation points for driving a Tesla. Too much fun. "
Personally, I want to see an Electric Lightning and a Tesla Roadster on the track together.
If we can build electric supercars, why can't we build rockets too? If Musk can do it, why can't we? ;-)
UPDATE: BBC admits it made stuff up (surprise!). The Tesla didn't run out of charge, and was only filmed being pushed back to the garage to show what would happen if the Roadster had run out of charge. So that's all right then :-p "Top Gear stands by the findings in this film and is content that it offers a fair representation of the Tesla's performance on the day it was tested," the BBC said in statement
Tip Jar
Help support Rocketeers by making a small donation towards site upkeep!
Twitter

Subscribe to the Rocketeers Twitter feed for instant updates!