UK at the forefront of NASA's CYGNSS mission
Rocketeer — Sat, 21/01/2017 - 8:23pm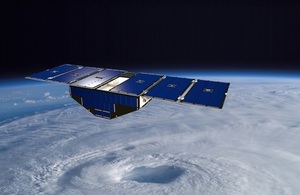 Surrey Satellite Technology has developed the Space GNSS Receiver Remote Sensing Instrument (SGR-ReSI) for the Cyclone Global Navigation Satellite System (CYGNSS) mission providing scientists with innovative satellite technology.
The CYGNSS mission, which launched from Cape Canaveral Air Force Station in Florida on 15 December, is part of a NASA programme to improve extreme weather prediction by studying how tropical cyclones form.
CYGNSS will measure ocean surface winds in and near a hurricane's inner core, including regions previously could not be measured from space. CYGNSS will use both direct and reflected satellite navigation signals to obtain estimates of surface wind speed over the ocean.
Tip Jar
Help support Rocketeers by making a small donation towards site upkeep!
Twitter

Subscribe to the Rocketeers Twitter feed for instant updates!